The National Society for Human Rights receives the Ambassador of Belgium to the Kingdom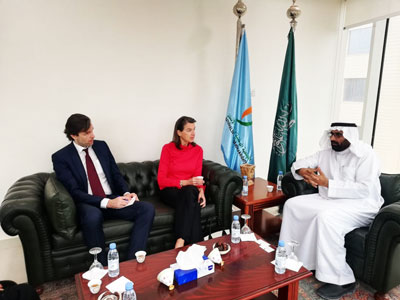 Views: 405
The Ambassador of Belgium to the Kingdom, Ms.Dominique Menor, accompanied by the Advisor and Vice-President of the Mission, Mr. Siegfried Penen, has visited the National Society for Human Rights on Tuesday, 19/7/1440, corresponding to 26/03/2019 AD, during which she met with the Chairman of the Society  Dr. Mufleh bin Rabiean Al Qahtani who has shed light briefly on the activities of the Society.
Besides, they have discussed many different issues including the detainees' issues as the Chairman of the Society has explained that the Society is always seeking to ensure that they have their rights during the period of arrest and trial. They have also discussed the development witnessed by the Kingdom in the field of empowering women in various fields.
Concerning the trial of the defendants in the case of the death of Jamal Khashoggi, the Chairman of the Society has explained that the society is following the trial of those people and their trial is still ongoing. In addition, the Saudi authorities are keen to clarify the truth. At the end of the meeting, the visiting delegation has expressed his happiness to visit the Society and exchange views on some human rights issues.
The meeting was attended by the Chairman of the Society, Mr. Ahmed Al Mahmoud.