The National Society for Human Rights receives the Swedish Ambassador to the Kingdom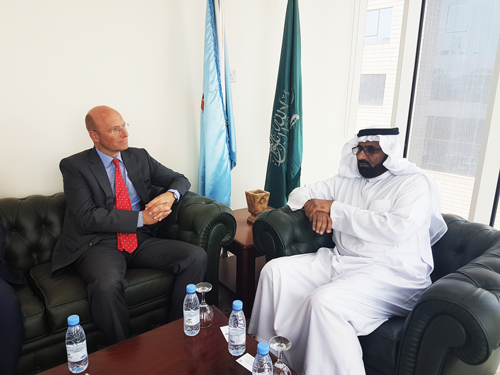 Views: 128
On Sunday, 18/14 / 1438 AH corresponding to 14/5/2017 AD, the Swedish Ambassador to the Kingdom, Mr. Jan Knutsson, has visited the National Society for Human Rights. During the visit, he met the Chairman of the Society, Dr. Mufleh Rabiean Al Qahtani, who has given him a brief explanation regarding the Society's activities. They have also talked about the Supreme Court's decision to empower women without the consent of their guardian as the Chairman has emphasized that it will contribute in finding solutions to some of the problems they faced in the past such as obtaining a passport, pointing out that the previous directives had been issued urging that parental consent should not be required for women to obtain a national identity card.
Besides, he added that the issuance of this order is an important pillar in supporting women's rights and enabling them to obtain services without requiring the consent of others mentioning that some parents have abused the concept of jurisdiction over women and that this decision is trying to strike a balance in this area. To illustrate, there is a need to preserve the family as a nucleus of society, as stipulated in the Basic Law of the Kingdom, and the rights of women, and not being arbitrarily deprived of them by some parents.
They have discussed also the development of the Kingdom in the field of women's rights, including their membership in the Shura Council and their entry into the municipal elections, as well as holding leadership positions in the country and allowing them to practice law and support their right to work, education and health.
In addition, the ambassador has pointed to the importance of documenting the relationship between the Kingdom and Sweden and mentioned that a delegation from the Saudi Shoura Council will visit Sweden soon. The meeting also discussed the Sweden's positive, balanced and fair position on human rights issues in the region, especially the Palestinian issue.
The meeting was attended by the Secretary General of the Society Mr. Khalid bin Abdulrahman Al Fakhri and the Secretary of the Chairman of the Society Mr. Ahmed bin Mohammed Al Mahmoud.