The Belgian Ambassador to the Kingdom visits the Society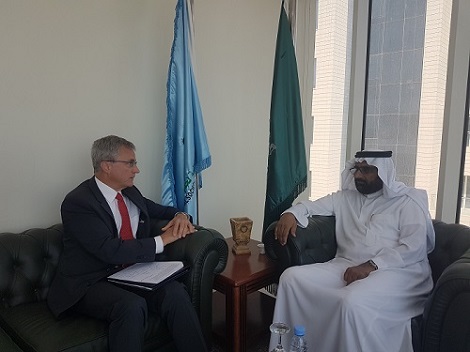 Views: 506
On Tuesday 13/1/1439 AH, the Ambassador of the Kingdom of Belgium to the Kingdom, Mr. Gert Krill, accompanied by Counselor Segfried Penen, Deputy Head of Mission, has visited the National Society for Human Rights. They were received by the Chairman of the National Society for Human Rights Dr. Muflah Rabiean Al Qahtani, the Secretary General of the Society, Mr. Khaled Al-Fakhri and Secretary of the Chairman of the Society Mr. Ahmed Al-Mahmoud. At the beginning of the meeting, the Chairman of the Society has given a brief explanation of the activities of the Society and its contribution in spreading the human rights culture as well as its mechanisms of work and the quality of the issues received and the Society's work in this regard.
They have discussed the developments in the Kingdom in the field of human rights, especially in the field of women's rights and the recent issue of the High Commissioner to allow women to drive.
Besides, they discussed some other human rights issues such as the death penalty, public opinion issues, prisoners and juveniles, and the Chairman of the society has pointed out the society's views concerning these issues and the judicial mechanism to be taken.