The opening of the Society's branch in Al-Qassim region and the reception of the region's Emir to the delegation of the National Society for Human Rights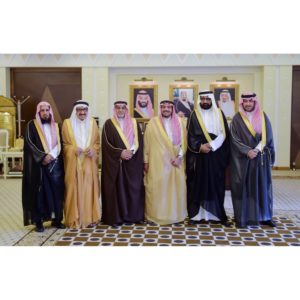 Views: 395
His Royal Highness Prince Faisal Bin Meshaal bin Saud bin Abdulaziz, Emir of Al Qassim Region, has received in his office the Chairman of the National Society for Human Rights, Dr. Mufleh Rabiean Al-Qahtani, the supervisor of the Society's Branch in Qassim Region, Dr. Saleh Al-Shuraideh, the Secretary General of the Society, Mr. Khaled Al-Fakhri and number of the Society's members on the occasion of the opening of the Society's branch.
The Chairman of the Society has presented to His Highness an explanation of the functions of the Society and its various activities and mechanisms. His Highness has briefed a number of the Society's publication and welcomed the visiting delegation. He has also asserted on the Society's work inside and outside as well as asserting on the importance of the cooperation between the Society and the emirate of the region. In addition, His Highness has welcomed the opening of the branch hoping to be a bond to the community as he praises the work of the Society in serving the public interest and promoting human rights in a way that was reflected on many citizens and residents, especially in the field of spreading the culture of human rights, thanking all that was offered indicating that our Islamic religion urges us to pay attention to human development and the society's awareness regarding its rights.
For his part, the Chairman of the National Society for Human Rights Dr. Mufleh Rabiean Qahtani has thanked and appreciated the Emir of the Qassim region for his follow-up and his support for human rights work and he is confident that this support will be obtained by the branch of the Society in Al-Qassim, asserting that the  humanitarian role of the Society will serve the community more in the region, noting that these actions will be reflected on the efforts made humanely and socially on society's issues.
The meeting was attended by Dr. Abdullah Al-Haidan and Dr. Ibrahim Al-Qaid the Society's members.