The American Delegation hosted by the Society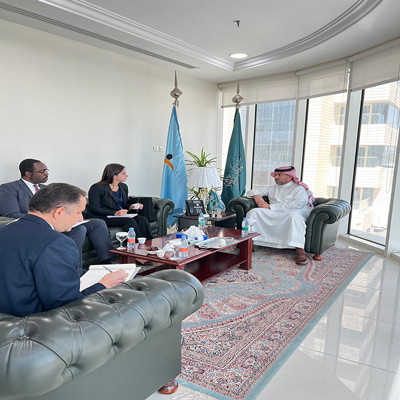 Views: 313
The Chairman of the National Society for Human Rights, Counselor Khalid bin Abdul Rahman Al-Fakhri, has welcomed in his office Mrs. Emily Bilson, the official in charge of the Gulf Cooperation Council countries in the Bureau of Democracy, Human Rights and Labor at the US State Department and her accompanying delegation from the US Embassy in Riyadh.
At the beginning of the meeting, the Chairman of the Society has given a brief explanation of the Society's activities and its contribution to the dissemination of human rights culture in the Kingdom, its work mechanisms, objectives, and the works provided by the Society in this regard.
Moreover, the Chairman of the Society has discussed with the visiting delegation the importance of being impartial in preparing reports on human rights and avoiding politicizing these reports to achieve political goals. He has also added that these reports should correspond to the reality in the Kingdom which is witnessing many human rights reforms and important transformations in a number of areas, which had a great impact in the protection and promotion of human rights.
The Chairman of the Society has also discussed with the visiting delegation the situation of some Saudi detainees in America and the need to find a solution to their situation.
On the other hand, the delegation has commended the human rights developments witnessed by the Kingdom of Saudi Arabia in accordance with Vision 2030, and has praised the humanitarian mediation efforts undertaken by His Highness, Crown Prince and Prime Minister, Prince Mohammed bin Salman, in the prisoner exchange deal between Russia and Ukraine, especially that among these prisoners are American citizens.
At the end of the meeting, the visiting delegation thanked the Chairman for the efforts made by the Society and its activities.